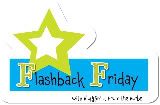 Melinda over at Bloggin' It From the Burbs has a wonderful photo carnival on Fridays to celebrate wonderful memories from the past. And for those that loves photos or just simply living in the past, then you will enjoy going to her site and visiting others that have linked up with her. During the month of March her theme is Sports & Recreation. Enjoy.

When I was trying to think of the perfect picture this was the first one that came to mind. (Luckily, I didn't have to search too much for this one. So it was a win, win).
Even at 7 months old, Evan's determination was incredibly strong. By 8 months old, he was walking/running around the house kicking a soccer ball. "Ball" was his third spoken word. (I'm just counting my blessings that he said Mom & Dad first. I was pleasantly surprised!!
Just look at those chubby cheeks. I miss those chubby baby cheeks. He ran them off way too soon. Evan has always been a big baby at 2 months he was already wearing clothes sized for a 6 month old. He is reaching many milestones entirely way too fast. (I secretly wish that he would SLLOOOOOWWW down. Afterall, he is my baby... the last one for me... I want to relish each moment just a little longer. However at the rate that he is growing and learning he isn't giving me very much time).