... to
Jackie
for the award.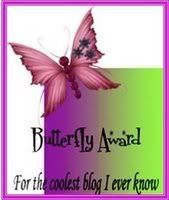 Here are the rules that go along with this award (Rules to encourage the winners to "pay it forward").
1. Put the award up on your blog
2. Add a link to the person who awarded it to you
3. Nominate at least seven other blogs
4. Add links to these blogs on your blog
5. Leave a message for your nominee on their blog
My nominees are:
Elaine
Lisa
Heidi
Gabrielle
Jackie
Kate
Cheryl
- she is the culprit that inadvertently encouraged me to start blogging. Her blog inspired me!
Thank you all for sharing!